Length 36 m

Beam 8 m

Capacity 22

Speed 12 KTS
Seawolf Soul
At 36 metres long and 8 metres wide, the Seawolf Soul is one of the most elegant yachts in the Red Sea. Modern technical equipment as well as luxurious furnishings offer a special diving experience.

The conception of Seawolf Soul is a highsea safari boat. With the bright, spacious and modern furniture of 8 cabins, 3 suites and relaxation zones, Divers and non-divers can spend a relaxing and adventurous vacation on Seawolf Soul.


Schedule
Lounges & interiors
8 double cabins with bathroom, air conditioner and mini bar on the lower deck
2 suites on the upper deck and 1 suite on the main deck with bathroom, air conditioner and mini bar
2 sep. bathrooms with wc and shower
1 large air conditioned salon with bar, flat screen, music, DVD and bar
Large sundecks equipped with teak wood
1 large dive deck equipped with teak wood
Chaise lounges for sunning and sleeping on the deck
Food & Beverage
Buffet
Vegetarian food
Fruit
Coffee, tea, water, soft drinks
Coffee machine (cappuccino, espresso for payment)
Alcohol (beer and wine for payment)
If you have any dietary special requests please let us know before trip departure. Our Chef will do it's best to fulfill your needs.
Construction year: 2007
Makeover: yearly
Lenght: 36 m
Wide: 8 m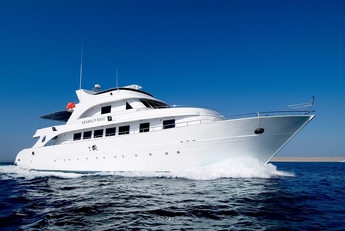 Safety- and Rescue Equipment ENOS for free
2 life rafts for 20 person each
Rescue- or lifejackets, medic first aid kit, oxygen
2 zodiacs with 40 hp outboarders
WiFi ( limited data volume) on board for free
Diving equipment for rent on request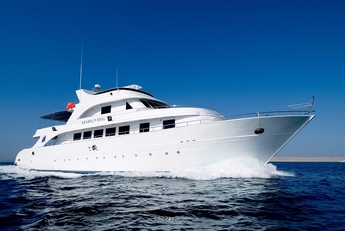 Engine: 2 x 750 PS Cummins
Generator: 2 x 80 KW, 220 V/24h
Compressors: 2 x Coltri Sub MCH 16 265 l/min
Nitrox membrane system
12-liter-Alu-tanks (15-liter tanks on request)
18 tons diesel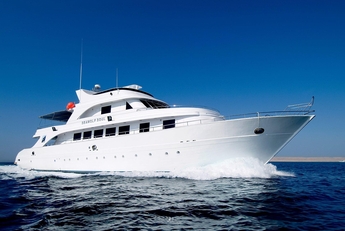 | Dates | Route | Start / End | Available | Price | Option | Notes | |
| --- | --- | --- | --- | --- | --- | --- | --- |